Beautiful, modern family tree charts
We believe in cherishing families—past, present, and future. We've designed our charts to be beautiful works of art that put your family on display at the center of your home, in a perfect marriage of form and function.
Celebrating Ancestors and Posterity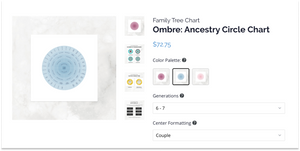 Effortlessly Customizable
Start from one of our gorgeous templates, import your genealogy, and then customize for a chart as unique as your family, changing colors, fonts, number of generations displayed, etc.
Import 9+ generations in minutes
Our integration with FamilySearch and GEDCOM allows you to import up to 10 generations of genealogy in just minutes, saving you hours of work!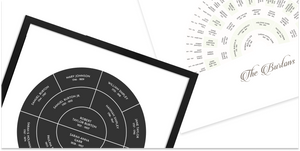 Digital, Print or Framed
Choose a high-resolution file (that you can take and print wherever you'd like, as many times as you'd like), professional print, or add a handcrafted frame made in the USA for a fully finished product.
Black & White Ancestry Charts: A Few Faves
Colorful Ancestry Charts: A Few Faves